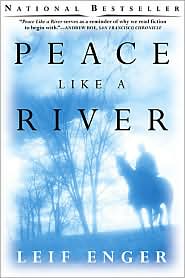 Leif Enger, who maddeningly does not have a website, made an appearance at The King's English in Salt Lake City last night. Before we proceed, I must disclose that I LOVE Peace Like a River. It's due for a rereading (right after I finish So Brave, Young, and Handsome), so I'll likely post a review of it then.
As you might have guessed, Leif Enger's new book is So Brave, Young, and Handsome. I haven't finished it yet, but the fifty or so pages I have read were quite delightful. Quite.
Anyway, we (me with my husband and brother, neither of whom had heard of Leif Enger prior to being dragged to the signing) appeared at The King's English and were ushered by Betsy into a small alcove of books with about twenty chairs. While we were waiting for Leif (which, by the by, I have always pronounced, incorrectly, as "Leaf"), the husband and the brother skimmed through books by Mary Roach, whose titles include Bonk: The Curious Coupling of Science and Sex, Stiff: The Curious Lives of Human Cadavers, and Spook: Science Tackles the Afterlife.
Leif arrived and after a somewhat awkward summary of the new book (which included at least five uses
of the word "implacable") and introduction by Betsy, the reading began. We were a little disappointed once he started talking that, as a Minnesotan, his accent did not in the least resemble that of the cast of Fargo. However, Leif was very amicable and invited audience participation in a way that reminded me of my favorite college professor. He read aloud to us in an engaging manner, almost but not quite as if he were reading to children.
Then Leif invited us to engage in a discussion (an interesting and more inviting way of saying "let us now commence with the obligatory Q&A"). The crowd consisted of mainly fifty-somethings, most of them obviously associated with the English Department at the University of Utah. Trust me, they were. The Q&A proceeded with the audience members making obvious and uncomfortable references to their books, writing groups, and writing students. The most exciting moment came when, asked who his favorite author was, Leif responded that it was currently Tobias Wolff (who also lacks a website) and his book Old School. (Old School, along with Peace Like a River, currently has a place in my current top five favorite books of all time.) Leif took it all in stride and politely answered the interminable round of insipid questions. Afterward, we were all offered coffee and wine while we waited in line to have our books signed.
Having attended two other book signings in the last week, I am a seasoned signing linestander. First, I prepped the books for signing by marking the pages to be signed, and then I made the hard decision to ask Leif to just sign the books without inscribing them to me (increasing their sale value one hundred years from now). Unfortunately, Leif just asked me my name and proceeded to both inscribe and sign my books while we made uncomfortable small talk about the rankness of the Great Salt Lake. I also turned into gushing reader and mentioned that Peace Like a River is one of my top five favorite books of all time. Blah.
The reading was great fun, and, as I've mentioned before, I like supporting my favorite contemporary, and therefore living, writers. Here here.
This post is cross-posted
here
.